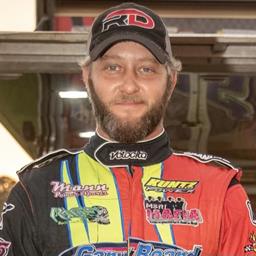 ---
Beard attends Show-Me 100 weekend; finishes fourth at Harrisburg
After Mother Nature won Thursday's Cowboy Classic, Kyle Beard was 63 Lucas Oil Late Model Dirt Series (LOLMDS) entries amassed at Lucas Oil Speedway (Wheatland, Mo.) on Friday for the 30th annual Show-Me 100 weekend.
With a ninth-to-sixth run in his heat race relegating him into the B-Main for another shot at the $6,000-to-win Tribute to Don & Billie Gibson preliminary feature, Kyle came two spots short with a fourth-place outing.
With results on Friday sending him into a B-Main on Saturday for another shot at the $50,000-to-win Show-Me 100, Beard missed a transfer spot by two cars with a fourth-place finish.
On Sunday, Beard stopped at Old No. 1 Speedway (Harrisburg, Ark.) where he raced to a fourth-place finish in the 20-lap feature.
Back to News